Sunset Concerts
Main Content
2023 Season
Sunset Concerts are fast approaching!
These free concerts will happen each Thursday at 7 p.m. beginning June 22nd, running through July 27th. 
For the safety and enjoyment of all, please use only single-serve containers. No glass bottles, No underage drinking, No solicitation, No pets, and No smoking.
All questions for the Sunset Concert season can be directed to the Office of Student Engagement at (618) 453-5714 or getinvolved@siu.edu.
2023 Summer Artists:
June 22: Skylar Rogers | Blues | Shryock Steps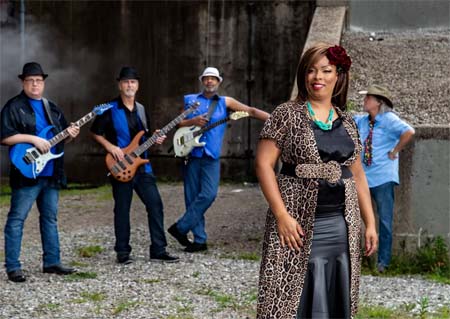 Finding your place on the Blues scene requires a rich vein of history to draw on, and like many of her heroes, she has lived through pain and suffering to become the artist she is today. Raised in the church and told she couldn't't sing because she wasn't't the right fit, Skylar's life took many unexpected twists and turns before she settled once again into the world that brought her so much joy.
With a voice that grips the soul and fills you with the energy and passion that only rocking blues can provide, one of the highlights of her career so far has been sharing a stage with Kevin Burt, Anne Harris, Ben Rice, Paul DesLauriers, Annika Chambers-DesLariers, and Terrie Odabi at the All Star
Showcase at the Big Blues Bender in Las Vegas. To work alongside such timeless artists is all the testament you need to evaluate the skills she has in her pocket.
Nominated for a Blues Blast Award and being considered by the Grammy committee for her song 'Like Father, Like Daughter', and for her album in the Contemporary Blues category, she has arrived on the grandest of stages.
---
June 29: Chain Station | Bluegrass | Turley Park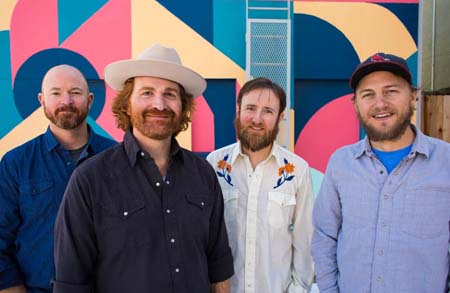 In the summer of 2006, Alex Thoele and Jon Pickett met while playing guitars around a campfire, high on a mountaintop in Estes Park, CO. The two have been entertaining and writing music since. In 2010, they were joined by mandolin player and fellow midwesterner Jarett Mason. The newest addition to the band as of December 2018 is Chris "C-Bob" Elliot on banjo and vocals.
Chain Station is a 4-piece, high-energy, get 'em out on the dance floor string band from Denver, Colorado. Their music is well-steeped in Americana roots, with vocal harmonies that are high, lonesome, and tight. Their picking ranges from lightning-fast to mountain mellow. They are a bluegrass band that would satisfy a picky old-timer and delight fans of newgrass, a delicate balance indeed.
They've become known for winning over crowds with creative, fun original songs that flow from the mountains, through them and right back to you. Pure Mountain Music! It's obvious these guys love what they do, engaging their growing fan base with energy and stage antics that guarantee one hell of a night out.
This band has been living life through music and adventures together for eight years. Relentless gigging in and around their home state of Colorado, and the midwest and Canada has made this band of brothers one of the tightest, most professional ragtag pack of muppets on the scene today.
---
July 6: Taylor Steele and the Love Preachers | Washington Street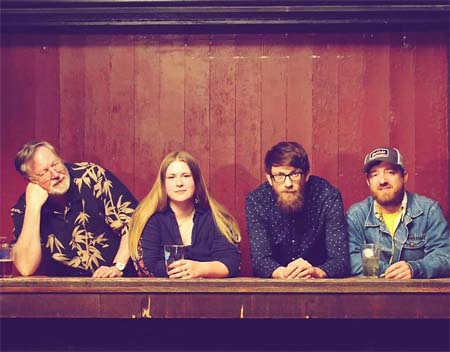 A five piece Americana band with a powerful woman singer/songwriter as its driving force.  Based out of Effingham, IL, they perform a powerful blend of roots rock with soul, country, blues, funk, and jam influences. The group performs original music written by Taylor Steele, 22 year old rhythm guitarist and vocalist, along with their interpretations of music by their favorite artists.
 The Love Preachers have a way of sneaking up on you. The music is soulful, but sublime. The songs are smart and original, with roots that take you through rock and roll back to the blues of the old south. The vocal quality of Taylor Steele is reminiscent of great legendary singers like Bonnie Raitt and Mavis Staples but also modern stars like Susan Tedeschi and Gillian Welch.  Stemming from these influences, she has immense control of her voice as she belts out notes and improvises, all while finding a beautiful balance between vibrato, tone, and projection.  Just when you think you have it figured out, the Love Preachers start preaching, Taylor's voice starts soaring, and they take you for the ride you won't soon forget.​
---
July 13: The Mighty Pines | Roots/Folks/Rock | Turley Park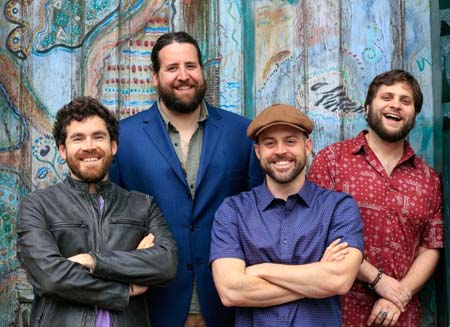 Like the steady and strong trees from which they take their name, The Mighty Pines continue to grow in stature, creating vast musical landscapes with their layered harmonies and thoughtfully crafted instrumentation. The band, which hails from St. Louis, generates a palpable vibe on their new album, Late Last Night. Produced by Steve Berlin (Los Lobos), Late Last Night stretches out with a sonic spaciousness, sliding effortlessly from roots and folk ballads to rock and soul. It also showcases the band's growth as songwriters, arrangers, singers, and musicians. The Mighty Pines is touring nationally and has supported renowned acts such as JJ Grey & Mofro, The Dead South, Railroad Earth, Brian Owens, Fruition and Sam Bush. Founding member and singer/guitarist Neil Salsich can currently be seen on NBC's The Voice Season 23. His blind audition wowed the celebrity coaches (Blake Shelton, Kelly Clarkson, Chance the Rapper and Niall Horan)  and America with a captivating rendition of Hank Williams' "Honky Tonk Blues" and a 4 Chair Turn.
---
July 20: Brandon Santini | Blues Harmonica| Turley Park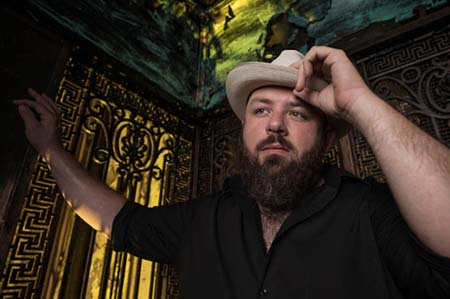 There are many different opinions as to what the future of the blues harmonica will be. International touring vocalist and harmonica player Brandon Santini is undeniably a worthy player to keep an eye on as the latest surge of young blues artists leave their footprint in blues history. His name is worthy of conversations that include James Cotton, Kim Wilson, Dennis Gruenling, Charlie Musselwhite and other frontline harmonica players by combining his love and respect for traditional blues with a present, colorful style of playing that is often compared to James Cotton or Paul Butterfield. Raised in the Piedmont region of North Carolina, Santini purchased his first harmonica in 1997 at the age of fifteen when his mother took him to the local music store upon his request. He founded the Blues Music Award nominated band Delta Highway in 2003 and relocated to Memphis where he absorbed the sounds and culture of the Delta and North Mississippi Hill Country, honing his craft night after night, sweating it out in local Beale Street clubs just like Robert Johnson, Muddy Waters, and B.B. King did decades before him. Now playing over 100 shows per year throughout the world, Santini has garnered five Blues Music Award nominations, festival headlining slots and even performing on stage with the likes of Buddy Guy and Gary Clark, Jr.
Brandon Santini's latest release, The Longshot, from the American Showplace Music label takes listeners on a slight detour from the traditional blues highway he has logged many miles on. One may not be surprised that the 36 year old vocalist and harmonica player is influenced and inspired by legendary rock artists such as The Rolling Stones, Tom Petty & The Heartbreakers, The Allman Brothers Band and Creedence Clearwater Revival just as much as Little Walter, Muddy Waters and Howlin' Wolf. From the ferocious opener, "Don't Come Around Here" to the embattled acoustic American driven, "Broken Bones," Santini ties his blues and rock influences together to deliver an energetic album of introspective heartbreak and lament.
---
July 27: The Ark Band | Reggae | Shryock Steps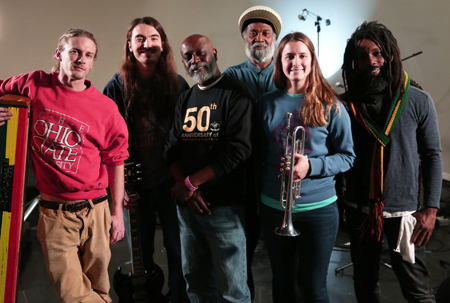 For more than twenty years now, the Saint Lucian reggae band based in Ohio, The Ark Band, has been spreading the joys of roots rock reggae all over the United States. Combining heavenly harmonies with tight, crisp, performances, this powerhouse of talent captures audiences with the very first note. Their honed setlist combines originals with classic/current hits designed to entertain, educate and enlighten all people. The Ark Band continues to be a force expressing the love, peace, togetherness and spirituality needed in our world today!